The C9 Disco - Hotel C9, Jaipur
One of Jaipur's hottest discotheques, the C9 is the place to be for an enjoyable night and fantastic music! Join us anytime between 7:00 P.M. and 11:00 P.M. for thumping beats and groovy moves on the dance floor — a good time all around!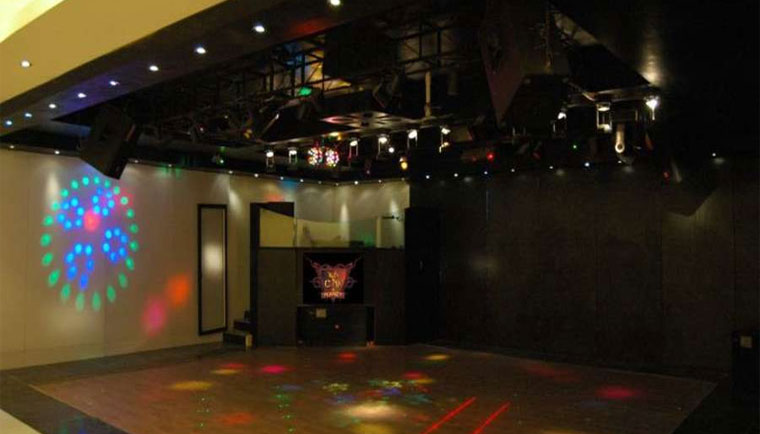 Party Packages at Hotel C9, Jaipur
Hotel C9 was started in 2008 in Jaipur with a vision to provide decent accommodation to suit every budget. We have 21 air-conditioned rooms with Wi-Fi and LCD TV facility. We are also running C9 discotheque - one of the biggest discotheques in Rajasthan.
Complete Wedding Package
Hotel C- 9 offers the most competitive, affordable, and hassle-free wedding packages in all of Jaipur. Marriage gardens all across Jaipur can be booked under this package since we serve in all ofJaipur city.
Rs. 3,100 Package
Rate displayed above covers the cost of 15 people, with the following inclusions:
Starter
Cold Drink
Steam Rice
Mix Veg
Shai Paneer
Gpab Jamun / Ice Cream
Papad + Salad + Achar
Including DJ

Rs. 459 Per Person
Mocktails with Ice Cream Base
Veg Soup/ Cold Drink
Papad Ke Samose + hara Bhara Dryfruit Kabab
Veg Ppao
Kadai Paneer
Mix Veg Korma
Dal Makhani
Dahi Bada
Puri (Deshi Ghee)
Naan
Tandori Roti
Bejar Roti
Kaju Katli
Makhan Bada
Ice Cream
Garlic Chutney , Papad, Salad, Achar
Mouth Freshener
Rs.559 Per Person
Blue Lagoon Mocktail
Veg Roll
Hara Bhara Dry Fruit Kabab
Paneer Katlas
Dry Fruit Ppao
Steam Rice
Kesar Sweet Rice
Mater Paneer
Mix Veg Korm
Bhindi Dry
Dal Makhani
Jeera Aalu
Dahi Bada
Dahi Balla
Deshi Ghee Puri
Laccha Paratha
Tawa Chapati
Naan
Tandoori Roti
Bejar Roti
Kaju Roll
Badam Barfi
Shai Gpab Jamun
Ice cream
Garlic Chutney + Papad + Salad + Aachar
Mouth Freshener
Including DJ
Rs.759 Per Person
Blue Lagoon With Vodka Base
Tomato Soup
Cold Drink
Chicken Tikka
Chicken Muglai Reshmi Kabab (Only Legs)
Paneer Tikka
Chicken Aagni Biryani
Dahi BadaSteam Rice
Chicken Stew
Mutton Handi
Dal Fry
Kadai Paneer
Veg Raita
Naan
Bejar Roti
Tandoor Roti
Rasgpla
Gpab Jamun
Kaju Katli
Ice Cream
Garlic Chutney + Papad + Salad + Achar
Mouth Freshner
Including DJ
Rs. 2,500 Per Hour
The rate displayed above is applicable for up to 20-25 people, and includes the cost of a DJ.
More Details: +91-9462011999